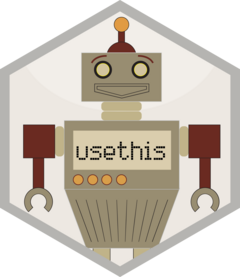 Managing Git(Hub) Credentials
Source:
vignettes/articles/git-credentials.Rmd
git-credentials.Rmd
usethis can help you with many of the Git and GitHub tasks that arise when managing R projects and packages. Under the hood, two lower-level packages are critical to this:
gert, for Git operations, like git init, git commit, and git push (docs.ropensci.org/gert)
gh, for GitHub API operations, like creating a repo, forking a repo, and opening a pull request (gh.r-lib.org)
Both packages need access to credentials in order to act on your behalf:
gert interacts with GitHub as a Git server, using either the HTTPS or SSH protocol
gh interacts with GitHub via its REST API
This article describes our recommendations for how to set up your Git and GitHub credentials. Our goal is a setup that works well for usethis and for other tools you may be using, such as command line Git and Git clients (including, but not limited to, RStudio).
This is a good time to check that you have up-to-date versions of the packages we're talking about here. In particular, you want gh >= v1.2.1, which knows about the new token format GitHub announced and adopted in March 2021.
TL;DR: Use HTTPS, 2FA, and a GitHub Personal Access Token
Our main recommendations are:
Adopt HTTPS as your Git transport protocol.
Turn on two-factor authentication for your GitHub account.
Use a personal access token (PAT) for all Git remote operations from the command line or from R.
Allow tools to store and retrieve your credentials from the Git credential store. If you have previously set your GitHub PAT in .Renviron, stop doing that.
Next we provide some context and a rationale for these recommendations. In the following section, we explain how to actually implement this.
HTTPS vs SSH
Instead of HTTPS, you could use SSH. Many people have valid reasons for preferring SSH and they should carry on. Our recommendation for HTTPS is because it's easier than SSH for newcomers to set up correctly, especially on Windows. GitHub has also long recommended HTTPS to new users. Finally, using HTTPS with a PAT kills two birds with one stone: this single credential can be used to authenticate to GitHub as a regular Git server and for its REST API. If you authenticate via SSH for "regular" Git work, you still have to set up a PAT for work that uses the REST API.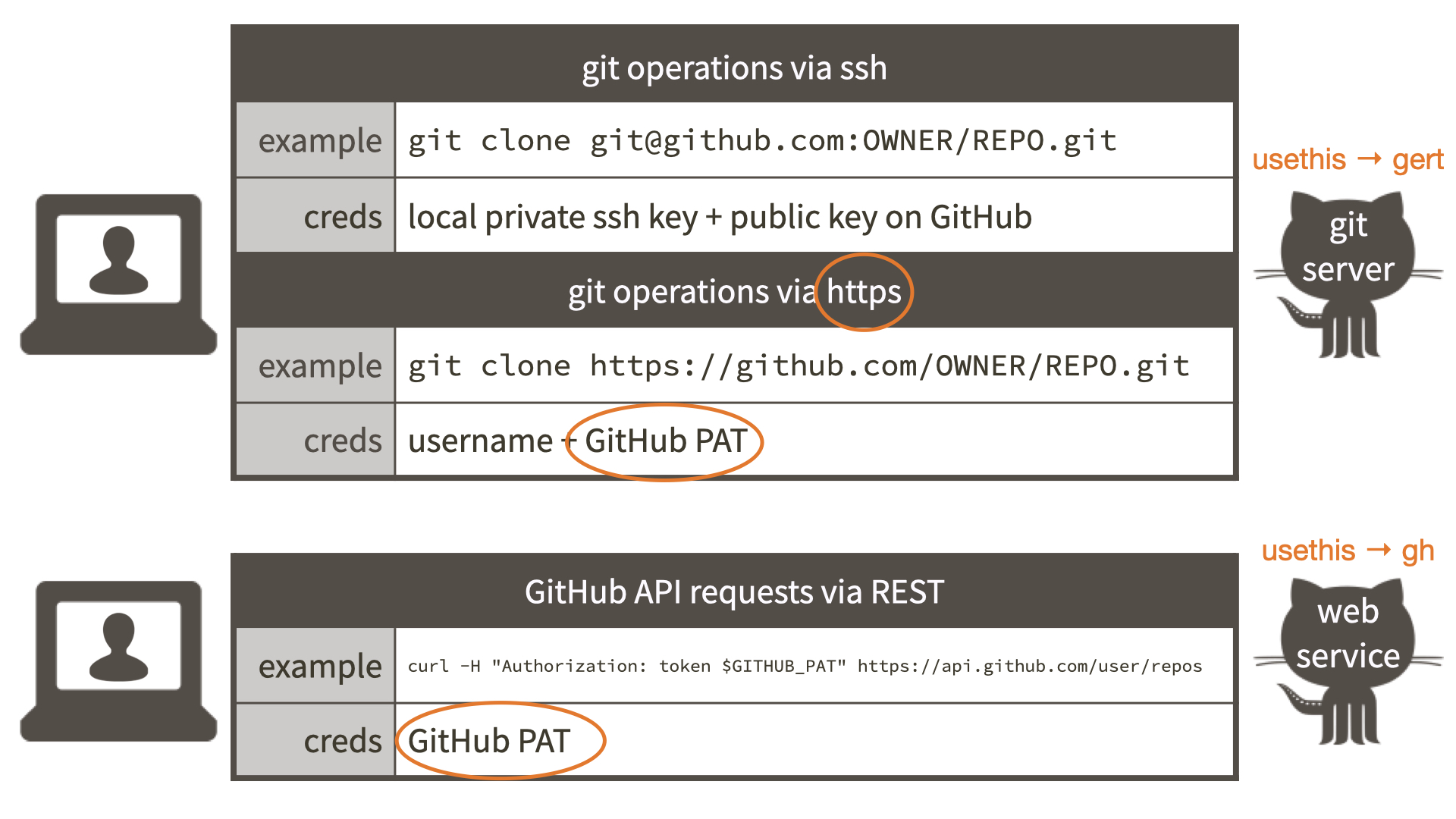 Two-factor authentication
Turning on two-factor authentication for important online accounts is just a good idea, in general. For example, we make 2FA a hard requirement for all members of the tidyverse and r-lib GitHub organizations.
In the past, activating 2FA also forced those using HTTPS to use a PAT, instead of "username + password", for operations like git push. Using a PAT is now an absolute requirement, for all operations using the HTTPS protocol, and no longer has anything to do with 2FA.
More background on the deprecation of "username + password" can be found in GitHub's blog post Token authentication requirements for Git operations.
Git credential helpers and the credential store
It's awkward to provide your credentials for every single Git transaction, so it's customary to let your system remember your credentials. Git uses so-called credential helpers for this and, happily, they tend to "just work" these days (especially, on macOS and Windows) 1. Git credential helpers take advantage of official OS-provided credential stores, where possible, such as macOS Keychain and Windows Credential Manager.
Recent innovations in gert and gh mean that Git/GitHub operations from R can also store and discover credentials using these same official Git credential helpers. This means we can stop storing GitHub PATs in plain text in a startup file, like .Renviron 2. This, in turn, reduces the risk of accidentally leaking your credentials.
Practical instructions
How do you actually implement these recommendations? The diagnostic functions usethis::gh_token_help() and usethis::git_sitrep() will offer some of the advice you see here, but directly in your R session.
Additional resources
Most users should be ready to work with Git and GitHub from R now, specifically with gert, gh, and usethis. In this section, we cover more specialized topics that only apply to certain users.
How to learn more
gh and gitcreds
gert and credentials